Join MVP Jan Ketil Skanke at Experts Live Europe in Berlin this August
CloudWay is very proud that MVP Jan Ketil Skanke was chosen to fill one of the speaker slots for Experts Live in Berlin. Jan Ketil is not only presenting at 2 session but he is also participating in 2 different Discussions Panels.
At the moment there is an ongoing campain on Twitter where you can get a free ticket to this event. Just like and comment on this tweet before 15.08 to be in the drawing: Link to Tweet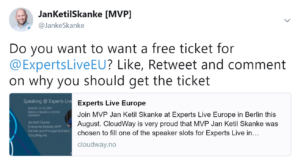 Jan Ketil is Co-Speaking with Kent Agerlund from Coretech Global.
Learn how to provision and manage Windows 10 the modern way with Enterprise Mobility Suite. Based upon real life experiences, I will show you how to dynamic provision Windows 10 by leveraging Azure AD join, Intune Auto-enrollment, Application management including Windows Store for Business integration, Windows Hello for Business, BitLocker and more news from Creators Update
One of the buzzwords of today is identity driven security. What is it really? Come and learn how to use Conditional Access together with other Microsoft protection solutions in the cloud to protect your applications and data both Onprem and in the Cloud. We will dive into how this comes together with devices and Microsoft Intune and risk based access with Azure AD Identity Protection.
Discussion Panels:
Discussion Panel: Identity, Security & Compliance
With Tudor Damian, Jan Vidar Elven, Simon May and Jan Ketil Skanke
Discussion Panel: ECM – Office 365 & EMS
With Simon May and Jan Ketil Skanke
Jan Ketil Skanke is also this autumn speaking at ITDev Connections in San Francisco in october and is one of the founders and speakers at MVP Dagen in Norway. Jan Ketil is a new leaf in international speaking, but has a lot of local experience so make sure you don't miss his sessions in Berlin.
Experts Live Europe is one of Europe's largest community conferences with a focus on Microsoft cloud, datacenter and workplace management. Top experts from around the world present discussion panels, ask-the-experts sessions and breakout sessions and cover the latest products, technologies and solutions. It's the time of the year to learn, network, share and make valuable connections.